M and I have fairly similar tastes when it comes to aesthetics – home decor, fashion, even artwork. More often than not, he trusts me to come up with decorating ideas because he'll usually end up liking them.
Of course, once in a while I come up with some crazy idea – for instance, buying a 1940s rotary phone and using it in our future apartment – and he goes 50-50 on it.
Now, usually, the way to convince M to agree something is worth buying… is to buy the green version of it.
He loves green, and he finds it a tad hard to say no to when I suggest we buy a green anything, especially since I don't fancy that color anywhere but in my veggies.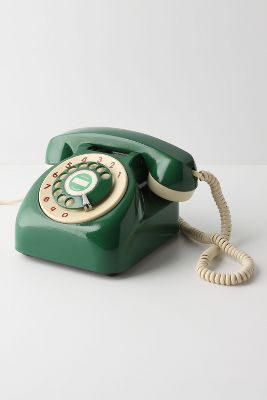 Enter the green vintage rotary phone, available on Anthropologie for a slightly ridiculous sum of money. It comes in red, yellow, and cornflower blue too, of course… but for reasons already made known, I'm posting up the green one here. (wink!)
Teehee.
p.s. More vintage(-inspired) phones.